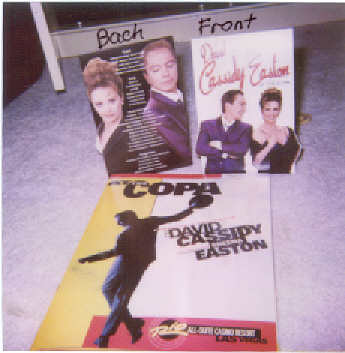 RAFFLE! Tickets are $1.00 each & you may order as many as you like. Tickets will be drawn July 15, 2000. Winners receive Table-top Program & Publicity folder (as shown).
VHS video of one of Patrick Cassidy's first feature films, Nickle Mountain. Biding starts at $20. (N0 BIDS YET)
AT THE COPA Publicity Kit. Contains fliers, folder, table-top program, fliers, Rio 2000 calendar, Postcard, Play Rio In-House magazine, Las Vegas Today magazine.
PEOPLE MAGAZINE With David & Shaun. (unautographed)
David's autobiography (Rare Blue Copy) Never Read!
LEUKEMIA LINKS: