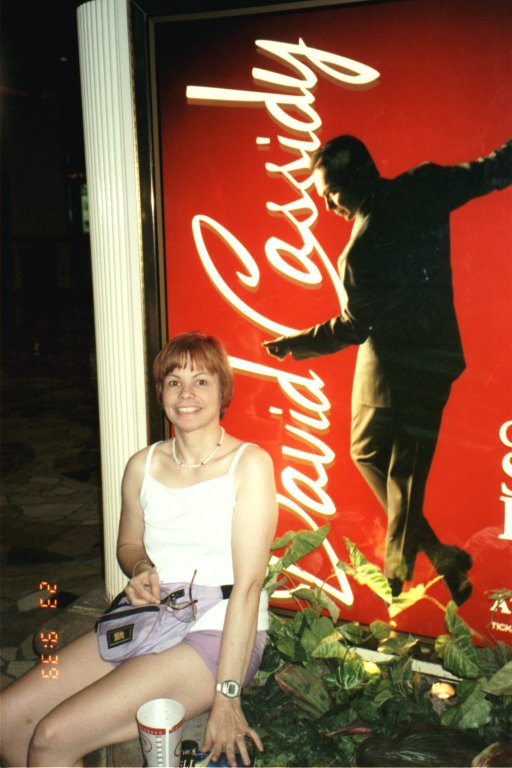 UP TO DATE WITH CHERYL BIRTHDATE: July 17
HOME: Los Alamitos CA
ETES: BR HAIR: LIGHT BR
HEIGHT: 5'
HOBBIES: Travel, reading, watching TV, The Internet, Phoning friends
LIKES: Meeting New Friends, Chocolate, Beanie Babies
DISLIKES: Rain, Heat, Dishonesty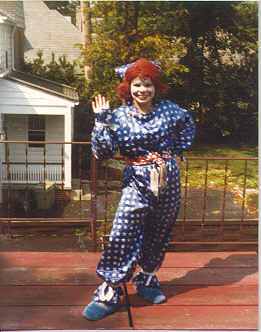 Here I am modeling a clown costume. I worked at a Children's area set up at a local Dept. Store at Easter, & this is the outfit I designed for the area!
Posing with the actor who played "Sammy" in "The Rat Pack Is Back"
Hi! Get to Know me
My name is Cheryl & I was born at a time when David Cassidy could really make an impact on my life. I've collected on him & all the Cassidy Family since the 1970's, although Now I wish I"d been able to save more. Hindsight is always 20/20! I've been able to meet most of the members of the family through my club, FRIENDS OF THE CASSIDYS,which is going into its' 7th year. I started in the Fan Club business when Shaun began his career in Hardy Boys. In 1995, when other Family clubs closed down, I took over, & changed our club to a Family club. In 1998 came the FOR ALL CASSIDY FANS website, & all my Internet buddies.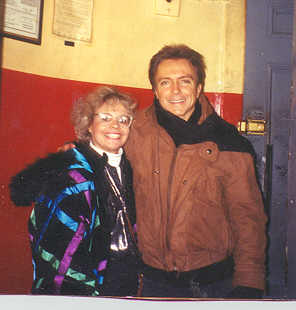 I love to travel, & love to meet other celebrities. I love the music of Jack Wagner, & have seen him several times in concert; I've also met him backstage after his concerts. I've also met Barry Williams (of the Brady Bunch- see Below). He was great fun. But my favorites are the Cassidy family. I've met nearly all of them, & have found them all to be friendly & open to their fans. David loved this coat I wore when I saw him & Shaun in Blood Brothers on Broadway. My very first Celebrity was country star Brenda Lee. She did a touring production of THE WIZARD OF OZ, playing Dorothy, & I was one of several local children who were chosen as Munchkins, monkeys, etc (I was an 6-year-old ballet-dancing Munchkin!)I have since given up dancing, due to a disability which has weakened my muscles & left me with a ankle brace. I try not to let it stop me from keeping up with other activities tho.
Here I am at the Annual Los Angeles "Golden Boot" Awards, where I mingled with such celebrities as Anne Lockhart, Burt Reynolds, and Phylis Diller. This is one of the many activities I enjoy now that I have moved to Southern California permanently.
Here I am with Barry Williams in 1980.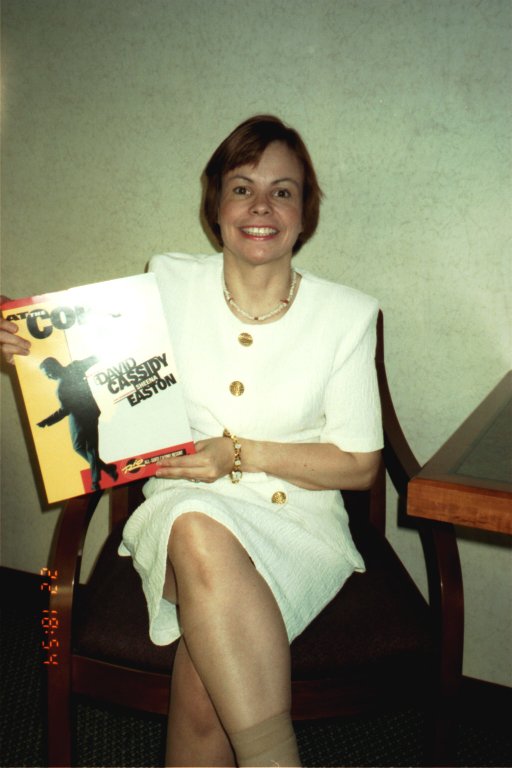 Waiting to head to AT THE COPA